Access to Jeju Island
Jeju International Airport, the 2nd largest airport in South Korea, is located in the north of Jeju Island. Jeju International Airport easily connects Korea with the major cities of China, Japan, and other Southeast Asian countries, via a total of 29 direct flight routes (13 domestic and 16 international).

There are three ways to fly to Jeju Island: by direct international flight, by transferring at either Incheon International Airport or Gimpo Airport to a domestic flight to Jeju. The IMID 2016 Secretariat recommends that visitors take a direct international flight to Jeju Island for their convenience.
Direct International Flights
International routes connect Jeju with 22 cities in 3 countries (Tokyo, Osaka, Nagoya, and Fukuoka in Japan and Ningbo, Dalian, Beijing, Shanghai, Xiamen, Xian, Shenzhen, Shenyang, Wenzhou, Changchun, Zhengzhou, Changsha, Fuzhou, Harbin, Hong Kong in China as well as Taipei in Taiwan)
With the exception of eleven countries, all international passport holders are able to enter Jeju visa-free for a maximum of thirty days.
Via Incheon or Gimpo International Airport
Upon arriving at Incheon International Airport, passengers can either transfer directly to a domestic flight to Jeju, or travel to Gimpo Airport, which offers a variety of domestic flights.
Via Incheon International Airport
Domestic flights from Incheon to Jeju operate once or twice a day with a flight time of approximately one hour.
Via Gimpo International Airport
Passengers may transfer to Gimpo International Airport by ground transportation such as bus or subway. Domestic airline flights to Jeju from Gimpo Airport operate at 15 to 20 minute intervals daily between 06:20 to 21:05. Traveling from Incheon to Gimpo Airport takes approximately 30 minutes.
Access to ICC JEJU
By Airport Limousines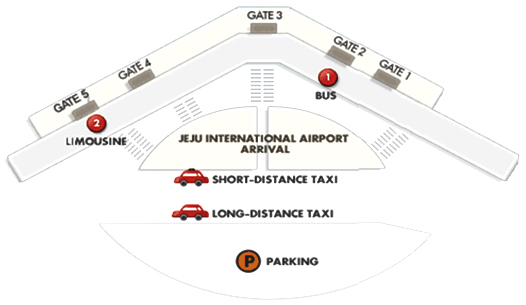 Bus No.
600 (To Seogwipo)
Place
Limousine bus stop on the left side of the front gate (Samyoung Traffic No. 600)
Fare
KRW 4,300 (USD 4 as of January 2014)
* Korean currency can be taken only
Time/Interval
06:20-22:00 /every 15 min.
Time Required
50 min. (ICC JEJU) / 80 min. (KAL Hotel)
Service Route
Airport → T.H.E Hotel → Entrance to the Yeomiji Botanical Garden → Hana Hotel → Hyatt Hotel → The Shilla Jeju → Suites Hotel → Lotte Hotel → Hankook Condominium → KTO Jeju → Seaes Hotel → Jeju International Convention Center (ICC JEJU - Congress Venue) → World Cup Stadium (Jeju Wonder Resort) → New Gyeongnam Hotel → Seogwipo Port → Paradise Hotel → Seoqwipo KAL Hotel
By Taxi
Taking a long-distance taxi from a taxi station can be considered as an option to go to ICC JEJU.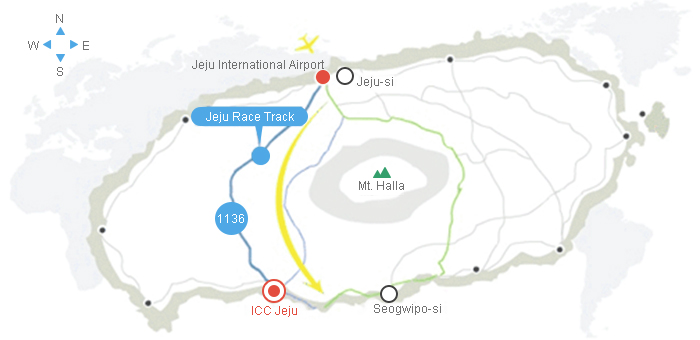 | | | | | | |
| --- | --- | --- | --- | --- | --- |
| Distance | 40km | Duration | 40-45 minutes | Fare | About KRW 30,000 |
Car Rentals
Advance reservation and selection is recommended for use of rented cars. Upon your arrival, rented cars can be used through vehicle guide services at the rent-a-car desk in front of the airport exit.
Name
Telephone No.
Desk Position
Web site
AVIS car rental
+82-64-749-3773
On the 1st floor at the exit of the waiting room of the domestic line arrival
www.avis.co.kr
Kumho car rental
+82-64-743-8107
www.kumhorent.com