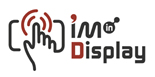 i'M in Display (Special Photo Exhibition)
The IMID 2019 Special Exhibition will be held at the Hwabaek International Convention Center, Gyeongju, Korea from August 28 (Wed) to 30(Fri).
In particular, "i'M in Display" Photo Exhibition is meaningful as it is the first event to be exhibited at the IMID 2019. Through this Photo Exhibition, we hope to bring an amazing experience for participants to share the moments of new discovery in the field of information display. This will allow us to get the artistic beauty of discovery as well as technical knowledge.
"i'M in Display" is open to anyone who wants to participate. Particularly, we encourage the participation of universities, research institutes and companies in the field of information display. The several interesting and imposing photographs will be rewarded. Don't miss the chance! To participate in Photo Exhibition, please fill out the application form and submit it through the "i'M in Display" Photo Submission System.
i'M in Display Information
Theme
Amazing moments of the new discovery in the field of information display
Schedule
August 28(Wed) ~ 30(Fri), 2019
Venue
Exhibition Hall, HICO, Gyeongju, Korea
Application Deadline
June 30, 2019 July 14, 2019 July 21, 2019
Applicable Materials
Photographs related with display development or fundamental research (e.g., microscope photographs, SEM photos, Equipment photos, etc.), Graphical simulation results or drawings, graphs, illustrating a display-related concept or phenomenon.
How to Apply
1) Log-in the "i'M in Display" Photo Submission System : http://www.cy-mice.org/imid2019/default.php
2) Complete the application form and submit the photos at "i'M in Display" Photo Submission System.
* Maximum file size is 10MB
* The several interesting and imposing photographs will be rewarded.
* IMID will provide Starbucks Coffee Coupon to participants who submit their photograph at the submission system(first come, first served basis)
i'M in Display Awards
i'M in Display Awards Ceremony
- Date and Time : August 29 (Thu.) / 14:30
- Place : 1F, Exhibition Hall, HICO
| | | | | | | |
| --- | --- | --- | --- | --- | --- | --- |
| Prize | NO. | Photo | Title | First Name | Last Name | Affiliation |
| Gold | 1012_2 | | Neuron | In-Hwan | Baek | Korea Institute of Science and Technology |
| Gold | 1014 | | Blooming Snowflake (Tantalum(Ta) Buckling Pattern) | Nuri | On | Hanyang University |
| Silver | 1035 | | Flower Garden In The Sea Of Liquid Crystals | Doyeon | Lee | Sungkyunkwan University |
| Silver | 1018_2 | | Origami-inspired Modular-pixel Joint Display | Kunio | Sakamoto | Konan University |
| Bronze | 1037_1 | | A Person Falling Into The Swamp Of Love | seung hyun | Jeong | Hanyang University Graduate School |
| Bronze | 1039 | | A Mouse In A Silvernanowires (AgNWs) World | Jaeyoung | Yoon | Seoul National University |
| Incentive | 1024 | | Drift Ice With Icebreaker | Sung Min | Kwon | Chung-Ang University |
| Incentive | 1032_1 | | Lollipop Planet | Dongseok | Lee | Hanyang University |
| Incentive | 1033_1 | | Crystal Planet | Young Kyo | Seo | Hanyang University |
| Incentive | 1030 | | Summer Night Sea | Jeong-Wan | Jo | Chung-Ang University |
| Incentive | 1036 | | The Pretzel | Suk-Ho | Song | Sungkyunkwan University |
| Incentive | 1038_1 | | 1um-pixel-pitch Display Backplane | Ji Hun | Choi | ETRI |