Exhibition Guideline
The IMID 2017 Special Exhibition will run in conjunction with the conference program. The exhibition creates an unparalleled opportunity to promote your products and services face-to-face to attending delegates. To secure your booking and to ensure you gain the best possible promotional location, contact the secretariat now (imid@k-ids.or.kr).
Information for participants of the Special Exhibition
Only if you want to visit our special exhibition, please visit our registration desk and fill out the special exhibition participation form. Free admission is offered if you fill out the form.
Theme of Special Exhibition

Exhibition Information
Exhibition Schedule: Aug 29 (Tue.) ~ 31 (Thu.), 2017
Venue: #301, BEXCO, Busan, Korea
Organized by The Korean Information Display Society (KIDS)
Korea Display Industry Association (KDIA)
Exhibition Items
1) Materials and components related to electronic displays
(Glass, Color Filter, BLU, polarizer film, Drive IC, OLED materials, LCD materials, Touch panel materials, etc.)
2) Instrument for electronic displays
(Measuring instruments, test system, equipment for manufacturing electronic parts and components, simulator, etc.)
Exhibition Fee
KIDS/ KDIA Membership
KIDS/ KDIA Non-Membership
Independent Booth (Space Only)
Prefabricated Booth (Standard Booth)
Independent Booth (Space Only)
Prefabricated Booth (Standard Booth)
Regular Application
(From July 1, 2017)
$1,000
$1,500
$1,300
$1,800
Early Application
(By June 30, 2017)
$900
$1,350
$1,200
$1,650
Very Early Application
(By April 30, 2017)
$700
$1,050
$1,000
$1,350
* All exhibition fees exclude VAT, so the tax will be added in the price.
Application Deadline
- Very Early-bird Application: April 30, 2017
- Early-bird Application: May 1 ~ June 30, 2017
- Regular Application: After July 1, 2017
(* Applications can be rejected if all spaces have been reserved out.)
How to Apply
1) Fill in the application form
2) Send the application with business license by Email (imid@k-ids.or.kr) or FAX (+82-42-472-7459)
3) Receive the invoice from the IMID 2017 secretariat
4) Pay the deposit (50% of total amount)
5) Pay the balance: July 31, 2017
Booth Information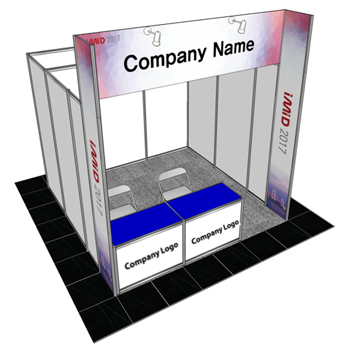 3m * 2m Aluminum System Booth
Signboard
Placed on upper part of back board with company name
Furniture
- 2 Information Desk
- 2 Chairs
Electricity
1KW of Power for 1 Booth
Benefits for Exhibitors
- 1 Conference Free Registration Provided
- Exhibitor Company Introduction in the program book
- Web banner linked with the official website
Bank Account
Account Holder
Korea Information Display Society (KIDS)
Account Number
102-60504-255
Bank Name
Citibank
Swift Code
CITIKRSX
Bank Address
Korean Federation of Science & Technology Societies Center, 635-4,
Yeoksam-dong, Gangnam-gu, Seoul, Korea
* All bank remittance charges should be paid by the sender.
Refund Policy
- By May 23, 2017: 50% Deduction from the participation fee (booth fee)
- May 24 to June 30, 2017: 80% Deduction from the participation fee (booth fee)
- From July 1, 2017: 100% Deduction from the participation fee (booth fee)
Contact us
The Korean Information Display Society (KIDS)
Tel: +82-2-563-7992 | Fax: +82-2-556-3396 | Email: kids@k-ids.or.kr
IMID 2017 Secretariat Genicom (PCO)
Tel: +82—42-472-7460 | Fax: +82-42-472-7459 | Email: imid@k-ids.or.kr