Sponsorship
Our Organizing Committee of IMID 2017 welcomes sponsors from interested companies and institutions. Sponsorship of IMID 2017 provides a unique chance to raise the international profile and position for your company to be at the forefront of the information display fields. We offer a variety of sponsorship and advertisement opportunities to pay off more than you expect throughout the meeting. Our sponsorship prospectus is now available. If you need more information, please do not hesitate to contact us.
Application for Sponsorship
* Please fill out the Sponsorship Application Form and email to the Secretariat (kids@k-ids.or.kr).
Sponsorship Type
- Type A
Benefits
Level
Platinum
Gold
Silver
Bronze
KRW 15,000,000
KRW 10,000,000
KRW 5,000,000
KRW 2,000,000
Free
Registration
7 persons
5 persons
2 persons
-
Logo on
Program Book
•
•
•
•
Logo and Link on
Official Website
•
•
•
•
Logo on
E-newsletter
•
•
•
•
Logo on Screen at
Session Room
•
•
-
-
Logo on banners
•
•
-
-
Advertisement on
Program Book
1 page
1/2 page
1/3 page
-
Exhibition Booth
1 Booth
1 Booth
-
-
- Type B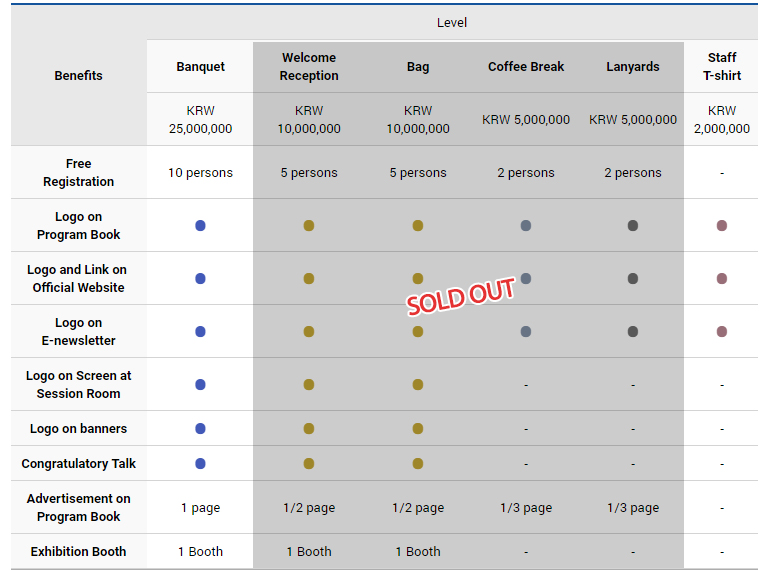 Contact Information
Mi-Ra Jang (Ms.)
Manager, IMID Secretariat
E-mail: kids@k-ids.or.kr
Tel.: +82-2-563-7992 | Fax.: +82-2-556-3396